Vancouver's Executive Resume Writing Service
You have mastered every aspect of your business. You have delivered exceptional results in every assignment. Now you want to move to the top.
You know the competition for senior positions is fierce. So you know you need an executive resume package that summarizes your outstanding record and presents you as a first-class candidate.
Over the last decade, I've helped many CEO's, COO's, and Presidents find new positions. Here's what some of them say about my work.
Why do my executive resumes deliver such exceptional results?
It takes a certain kind of writer to write executive resume packages that get results like these. It takes someone who has been there, who understands the challenges of leadership, and who knows how to uncover key details.
Many resume writers started as HR juniors. But I came to resume writing after years working in operations, financial supervision, sales, and running my own company. That experience gives me an edge when it comes to helping you remember, value and present the full range of your skills and accomplishments. When you work with me, we will:

Highlight your ability to spot – and leverage – game-changing opportunities.

Show how you rise to crucial challenges – and exceed expectations when you do.

Record how you meet significant crises with decisive leadership, and

Present your outstanding teambuilding skills.
When you submit an executive resume that confirms the exceptional ROI you offer, the best companies will call you for their best opportunities. Your job search will be shorter, and you'll be more confident and relaxed in your interviews.
So why let an average resume get in the way of your dreams? Call me at 604-418-7094 or 1-800-514-6208 to commission the executive resume package that will take you to the top.
Your investment in a Fast & Focused Resume is worth $3,000, but you only pay $1,200. 
Here's the breakdown.
Executive Resume Package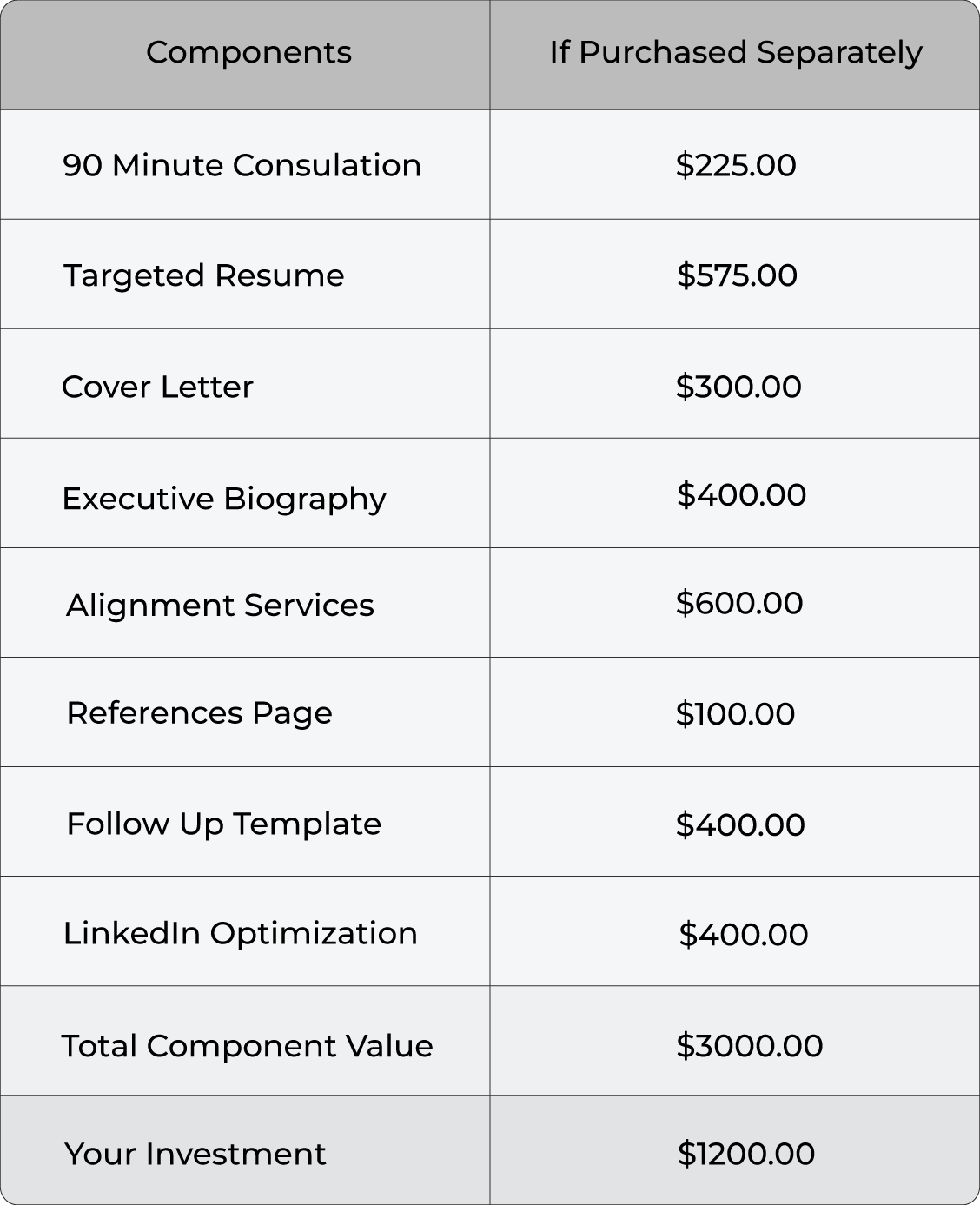 FAQ
How much does an executive resume cost?
Tim Cunningham
2021-12-06T10:41:21-08:00
My executive resume packages run between $600.00 for the basic resume and cover letter to up to $1,000.00 for the full package of resume, cover letter, executive biography and LinkedIn optimization coaching.
Are executive resume writers worth it?
Tim Cunningham
2022-07-12T10:00:35-07:00
An executive resume writer can add many thousands of dollars to the salary the client receives in their next job and can make the search for that next job much shorter. This is why I say that investing in one of my resumes more than pays for itself.
How can I find a good executive resume writer? What is the process?
Tim Cunningham
2022-07-12T10:05:43-07:00
A good Vancouver executive resume writer will ask the following on initial contact:
What are your current and target roles?
How many years of experience do you have in your current role?
Do you have any application deadlines within the next ten days?
Do you have the job description or the job ad?
During the call a good resume writer will explain their work process. At a minimum, it should involve the following items.
Conducting an in-depth interview to uncover forgotten or unstated accomplishments,
How your writer will present those accomplishments in powerfully persuasive ways, and
How your writer will create a strong personal branding statement to summarize your value and differentiate you from others.
How to Choose a Top Executive Resume Writer
Your executive resume is a critical tool in your job search arsenal, so choosing the executive resume writer who will prepare it is not a snap decision.
That writer must produce outstanding career documents that demonstrate your readiness for executive responsibilities.
Since it is best to meet with your resume writer  — in person if possible on Zoom if necessary — you should begin by finding out which nearby executive resume writers are ranked highly on Google My Business. When you have narrowed down your list of potential executive resume writers, ask yourself (and your candidates) these six questions:
Has this executive resume writer worked with executives in similar positions?
How well does this executive resume writer know my field?
Does this executive resume writer have samples available for viewing?
How many referrals has this executive resume writer won from his senior clients?
How many times have this executive resume writer's clients returned for resume updates?
Does this executive resume writer have any success stories from clients seeking similar positions?
Asking these questions will help you find the executive resume writer who is right for you.